Sustainable and Responsible Tourism
As a leader in low density high sustainability development we are proud members of Travelife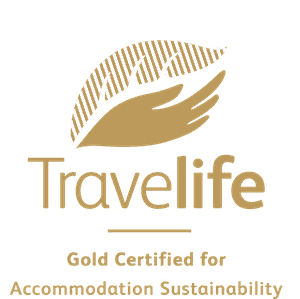 The Development and Operations of our resort conforms to the industries of higest standards in sustainability, culminating in our Travelife Gold certification.
ECO CHIC
Keeping true to our eco-chic hideout beliefs, our villas, although luxurious, spacious, comfortable and private in nature, do not offer television. Our villas, however, do offer great open architecture, natural ventilations and of course have fans besides all other modern day comforts like outdoor showers, his and her vanity tables, comfortable bedding and so forth. At night a cool breeze from the ocean and the sounds of the waves adds to a great natural experience to sleep at night while keeping our eco-footprint as small as possible.
For guests seeking a little cooling, all villas have air conditioning in the bedrooms if you prefer to close up the windows and doors at night.
Koh Jum Beach Villas Eco Policy
We use low energy and energy conserving lighting. Lighting is on timers to reduce energy.
Our furniture comprise of pieces made from bamboo and recycled wood.
The construction wood is from sustainable sources.
Toilet paper is made from recycled papers.
The cleaning products and detergents are low VOC. High VOC products are toxic to the environment and general health.
We recycle as much paper and cardboard waste as possible.
Our villas are constructed to make use of the natural sea breezes to minimise the need to use air conditioners.
Our air conditioners operate using smart remote controls that control the min temp to minimise energy consumption.
Air conditioners are energy star products.
Our roofs are insulated to promote heat reflection to keep the interiors cool.
The bathrooms have low flush toilets.
We provide bicycles free of charge to guests to explore the island reducing the need for taxi and motorcycle use.
Our organic garden provides food to the restaurant, cutting down on carbon footprint involved in transportation.
We compost our organic waste and have a no burn policy.
We offer a non smoking environment.
We provide cloth shopping bags, so guests don't have to use plastic bags when they shop in the village.
We don't use any disposable plates or cutlery in the restaurant or in packed lunches.
We provide free to our guests natural mosquito repellent and coils.
All staff are involved and aware of their environment and do their best to protect.
As well as offering boat excursions we really push the local island tours so our guests can experience true Thailand without creating a large carbon footprint.
We provide bulk organic soap and amenities to our guests, eliminating the use if single use products.
We provide bamboo cotton buds.
We have 37.4kw solar energy
We have our own bottle water plant and use glass bottles for drinking water. Drinking water is provide free to the guests. This cuts down on the use of plastic and transportation.
We have our own ice machine produce by the purified water. This also saves on transportation.
We clean the beach from plastic waste and recycle on a daily, or more if required, basis.
Our staff is the driving force of "Trash Hero" on the island. Trashhero.org