Your reassurance and protection is our main priority
Temporary Closure of Koh Jum Beach Villas
In compliance with the official guidance from the Royal Thai Government to prevent further spread of the COVID-19 pandemic, Koh Jum Beach Villas has temporarily closed until further notice. We believe that this is a necessary temporary measure for the safety and well-being of our guests, staff and local community.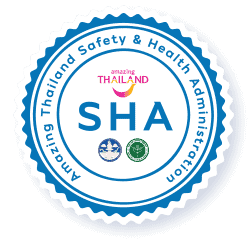 Koh Jum Beach Villas has been awarded the Amazing Thailand Safety and Health Administration SHA Certificate of Excellence for its outstanding health and safety measures by the Tourism Authority of Thailand.

The certification is a testament to all our staff's efforts to ensure Koh Jum Beach Villas long-term commitment to maintaining the protection and well-being of our wonderful guests. Our high standards of cleanliness will be initiated into all aspects of operation once we re-open and will include and not limited to the following;
Body temperature checks for all hotel guests on arrival, as well as staff members
Hand Sanitizer gel stations in all public areas
High frequency cleaning of all surfaces in public areas including furnishings in Guest Services area and rest rooms
Enhanced deep cleaning and sanitization of all villas upon guest departure
All tables in the restaurant will be set up with a minimum of 2m separation
Tables and chairs in the restaurant will be disinfected between each usage
Any buffet service will be hands free and service staff will be on station to plate all foods for guests
Menus and bill folders will be sanitized after each usage
Koh Jum Beach Villas adheres to the Secret Retreats Clean Care Pledge which can be viewed here.
We appreciate all your support and trust with Koh Jum Beach Villas and wishing you and your loved ones well during this challenging time.
If you have any questions, please reach out to us at info@kohjumbeachvillas.com
We look forward to welcoming you soon in the near future.
Warm regards,
The Team at Koh Jum Beach Villas